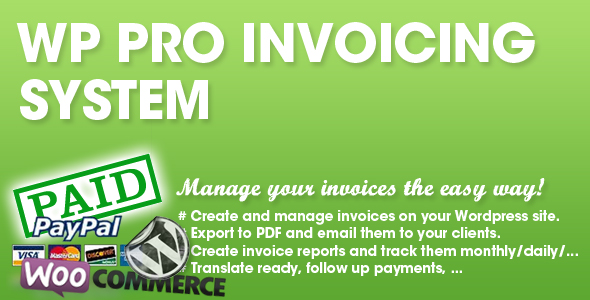 The "WP PRO Invoicing System" WordPress Plugin allows you to create invoices on your WordPress site. It has many powerfull features to handle invoices on your website. You can easily Create/ Edit/ Manage/ Export/ Send/ Track/ Report/ … your invoices in just a few clicks.
WordPress users who are linked as clients are able to View/ Track their invoices online and it's even possible to allow Online Payments using PayPal.
If you run a WooCommerce webshop the Pro Invoicing System makes it possible to automatically create invoices for each sale. It will include the invoice in the confirmation email send to the buyer as well.

Translate ready, .mo/.po files included.
Customize the template for your PDF Invoices.+ more info
WooCommerce Ready!


Create Invoices

Manage, Edit, Export and Sent Invoices

Track Invoices

Export Invoices to PDF

Let users pay Invoices online using Paypal