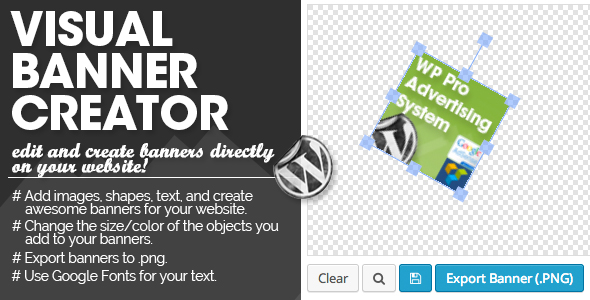 Photoshop style Visual Banner Creator for WordPress
List of Features
Load/Upload banners: Simply use existing or upload new banners from your website.
Add images: Add multiple images on top of each other.
Add shapes: create circle or rectangle shapes to add on top of your banners. you can also change the colors of the shapes.
Add Text: Add text on top of your banners. You can change the color and border color of the text. You can also change the font famaly include all available Google Fonts!
Position items by Drag and Drop: Simply position the items on your banner by dragging them to the right place.
Save banner: Save your banners as .png files and link them to your WordPress Media so they can be used anywhere on your website.
Save designs: Save your designs including all different layers so you can easily edit your banner any time you need.
Frontend Editor: Using the custom shortcode you can add the Banner Creator to the frontend of your website and allow users to create their own banners.
Demo:
Saving banners has been disabled in this demo. Only Preview is active.
[visual_banner_creator image_upload=0 save_design=0 export=0]